Free service to opt out of catalogs, coupons, credit card offers, phone books, circulars and more.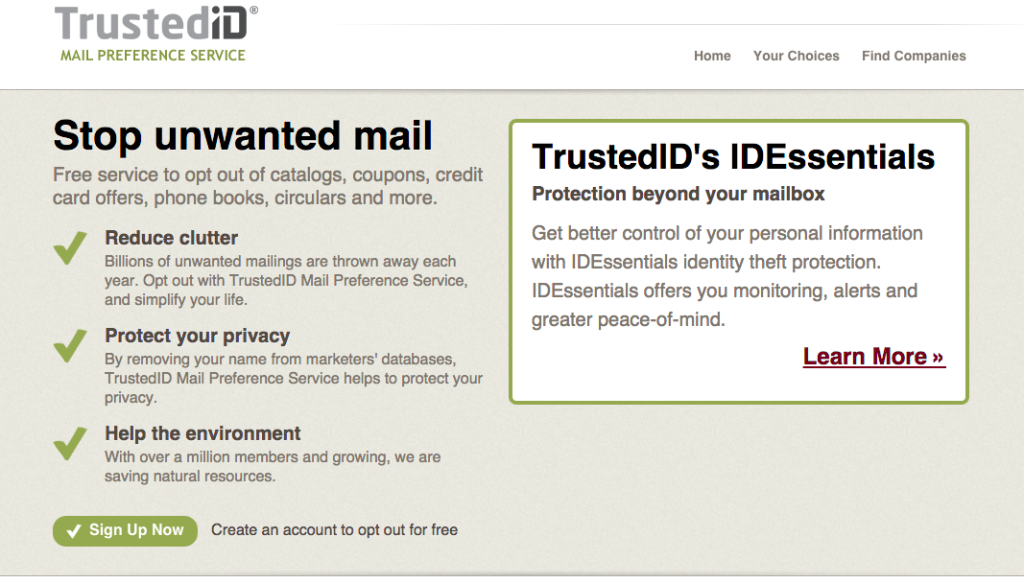 How it Works
TrustedID Mail Preference Service is the easiest and most
effective way to stop unwanted mail.
1. You receive unwanted mail.
Unwanted catalogs, coupons and credit card offers, donation requests, and other junk mail arrive daily and clutter your home or office.
Companies you know mail you because you have done business with them. But many companies send you mail because they bought your information from a data broker — who sells your information to any company looking to market to you.
2. Report it to us.
You can simply log in to create a free account and register your opt-outs online. Just search for the company, and submit the opt—out. For phone books, enter your zip code, and we will show you the directories delivered in your area.
3. We'll take it from there.
We act on your behalf to protect your consumer rights and get your opt-outs processed. You can keep track of your opt-outs, and if you receive the mail again, we will follow up.
We work with over 8,000 companies — and the largest data brokers — to honor your choices and protect your privacy. We have processed over 25 million opt-outs by over 1.7 million account holders.